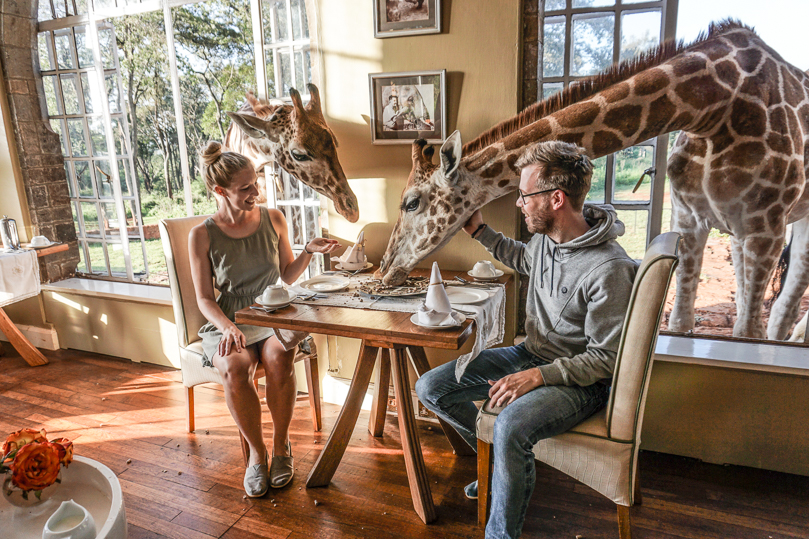 19. December 2017
In
Kenya
Breakfast with Giraffes
When I saw the first pictures of people having breakfast with wild giraffes I got totally excited.
I knew I had to do this!
But in the same moment, I was really skeptical.
Getting so close to wild giraffes to be able to take selfies – How can that be animal-friendly?!
You need to know I love everything that has to do with animals!
But more importantly, I love the animals themselves!
So I started to do some research about the Giraffe Manor in Kenya.


The Manor was constructed in 1932 modeled after a Scottish hunting lodge.
In 1974 it was bought by Betty and Jock Leslie Melvilles.
The Leslie Melvilles' soon started to adopt the first baby giraffe Daisy, since the Rothschild giraffes were facing extinction in Kenya.
The second one followed soon after and was called Marlon.
Today part of the land is run by the African Fund for Endangered Wildlife (AFEW) which was founded by the Leslie
Melvilles' in 1979.
AFEW's VISION: A Kenyan population
in harmony with nature and living sustainably.
They are running a breeding programme to assure the Rothschild giraffes existence in Kenya.
The calves are reintroduced into the wild at the age of 2 – 3 years.
So far the giraffe center has released more than 40 giraffes and about 10 are living at the 60-acre sanctuary at the moment.
All the giraffes are named after people who have contributed significantly to the work of AFEW.


The Manor itself is run as a hotel.
And the rooms are all named after one of the giraffes.
We stayed in Jock's room on the first floor.
Which made it possible to feed the giraffes from our room right when they came to the property for breakfast.


The giraffes know the exact schedule and start coming over to the manor for their treats at the same time every day.
Starting at 6 am in the morning for the famous breakfast with the giraffes.
They stay as long as they get fed and walk back to the sanctuary afterwards.
The next scheduled feeding is in the evening at 5 pm.
While the guests get served English delights (like amazing scones) and tea or coffee.




You need to treat the giraffes with respect and be really careful.
You can get a headbutt quickly.
Like one of the staff used to say: "No food, No friendship!" :D
Either way, some of them are very gentle and you can even touch them and get a kiss. ;)
We definitely had an amazing time with those beautiful long necked blondes.
Our stay at Giraffe Manor was one of a kind and we took so many great memories with us!
If you want to experience a breakfast like this check out Giraffe Manor.
Have you ever experienced something like this? Let me know your most amazing experience with wild animals in the comments.